Bell Tone Synth Works MG-1 Expansion Mod Kits Coming Soon!
Add modular patchability, independent 1/V octave tracking pitch control of the two oscillators, a second patchable LFO, PWM and more to your "Realistic Concertmate" Moog MG-1.
The kit will come with a new polycarbonate panel overlay (design shown above), with the same appearance and texture as the original. The production of these panel overlays was delayed by the pandemic, but hopefully we'll be able to get them made soon. Meanwhile, the PCBs have arrived: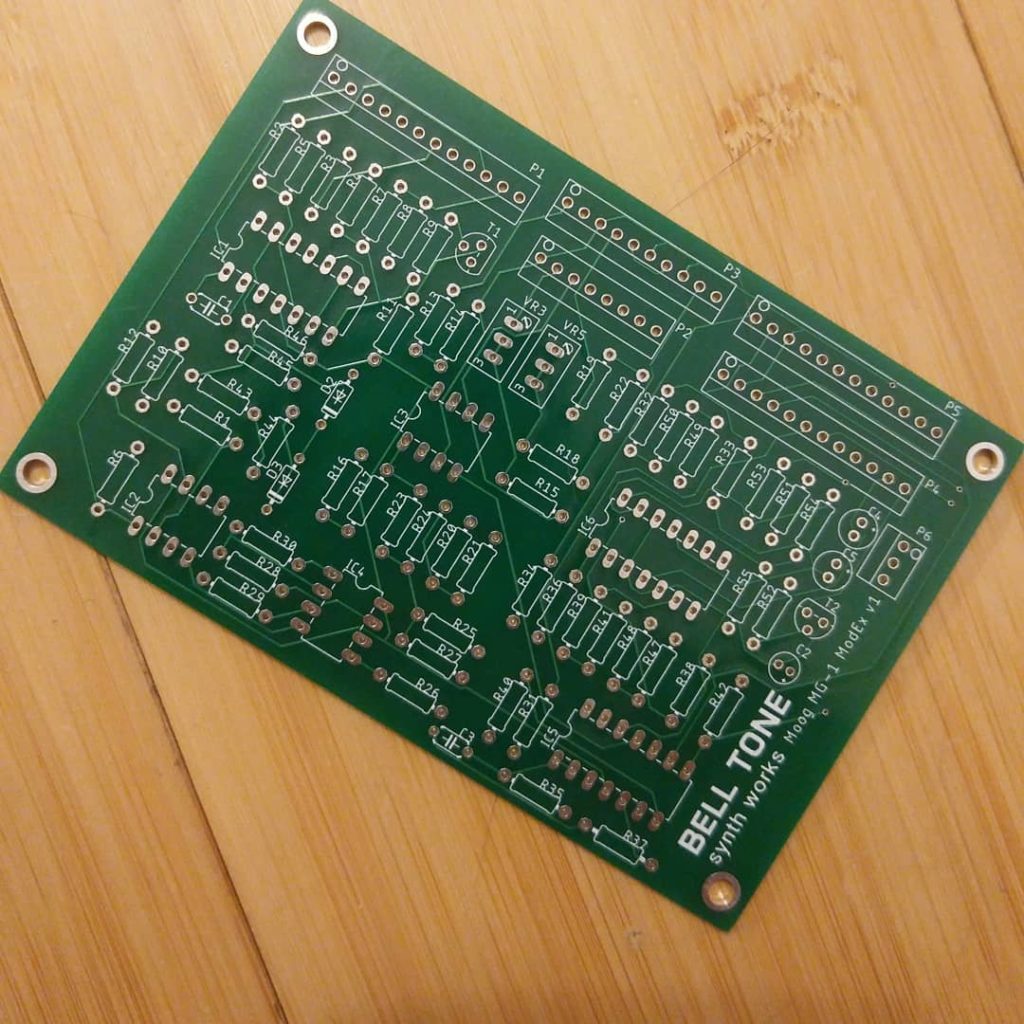 Here are a couple short demo videos of the prototype in action. Scroll down for the full list of features.
 

 

View this post on Instagram

 
 

 

View this post on Instagram

 
Features List:
adds a second LFO with two waveforms, triangle and square, simultaneoulsy available at separate outputs. This LFO has a very wide frequency range.
modulation input for "Polyphony" (organ) section with depth control– add vibrato or something weirder
Independent 1V/octave tracking pitch control for each of the two oscillators – with an external sequencer or keyboard, this makes it a duophonic synth! You can play chords with one hand, send in a bassline from a sequencer and play a lead with the other hand.
transpose control for oscillator 1
oscillator 1 individual output to use as a modulation source
keyboard bypass switch for oscillator 2 – this allows you to, for example, either have the MG-1 keyboard transpose your incoming sequence/arpeggiation, or have it be completely free-running while you use the keyboard for other things
CV input depth control for oscillator 2 allows you to also just use incoming pitch CV for modulation if you want
pulse width modulation input with depth control for each oscillator. Pulse width depth pot becomes a direct pulse width control when no modulation source is plugged in
additional filter CV input and depth control (modulate the filter with a fast LFO and a slow LFO at the same time!)
Gate/V-trig input for envelope
Envelope CV output (send it to PWM! Send it to Oscillator 2 and make a sync sweep!)
Multi-trigger with on/off switch. Under normal circumstances, if you are holding a chord with the polyphony and trying to play a melody, for example, the MG-1 would only trigger its envelope on the first note. Multi-trigger allows it to retrigger with every key pressed– but you can also turn it off if it's not helpful for what you're playing.
3.5mm jacks for all inputs and outputs, all inputs and outputs buffered and capable of accepting positive and negative CV for maximum modular compatibility.
Sign up to be emailed when the kit is ready
Toggle panel: Yoast SEO